N E W S
zowel SCOUT als David Shah (Trendhouse) en Studio bij Kiki hebben een KIDS trendbook gepubliceerd voor seizoen SS2020
BIJ KIKI
We are so happy and proud to present our first Trend Stories publication for kids fashion, design and lifestyle S/S2020 in cooperation with Christine Boland Trends & Mindsets.
Trend Stories for coming season with 198 exciting pages, including:
- Inspiring trend stories with general moods, directions and highlights
- Product details in fashion, accessories, sports, stationery, homedecor, design and lifestyle
- Shape and silhouette statements
- Material and texture statements
- Decoration and embellishment statements
- Graphics and pattern statements
- Seasonal statements: Valentine, Easter and Vacation
- Colour cards for each story and 27 colour keys, with beautiful colour combinations
- Colour ring with Pantone TCX swatches
- Royalty free artworks, free to use for your own designs
This products will be send to you as a .pdf and includes a ring with all the Pantone TCX colours in original cotton swatches. Kids Trend Stories will be published twice a year.
TRENDHOUSE by David Shah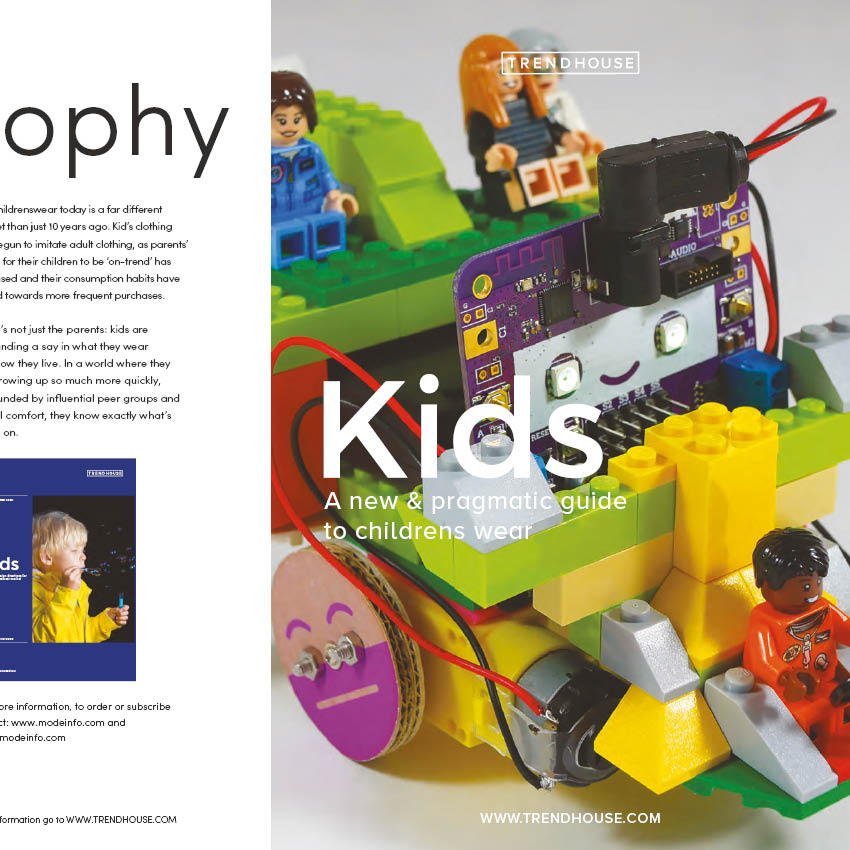 SCOUT
We are thrilled to announce the release of our brand new KIDS ss2020 report! With over 90 pages, we've adapted our big picture concepts from the adult and casualwear markets, and modified these for the junior market, analysing what kids from 5–11 ages will want to wear next summer. SCOUT KIDS ss2020 report is available exclusively online. Aimed at the junior kids market, we are evolving our expertise in the casual wear and junior markets now into kids research and products.
Packed full of exciting concepts, colours palettes, prints and graphics, styling and products, plus lifestyle related activities as to what kids are up to and into. This will be the definitive style guide for any brands working in the kids wear market.
Our five Children's concepts take us on an exciting journey as we explore different themes, ranging from Adventure Kids, Active Kids, to Zen Kids. Inspiring moodboards introduce the story, while Colour Usage pages were re-designed with fantastic new images and colour combos to boost your creativity.
As with all our other publications, there's also a focus on lifestyle, wellbeing, and what are kids into and inspired by. It summarises who the concepts are aimed to, as we present ideas suiting all kids' tastes and lifestyles across double-page spreads.
Styling pages are packed with products ideas for denim, street wear, product details, and focused on what is new in each trend and category. Prints + Graphics pages show how the concepts are translated into giving new visual ideas for prints and pattern designs.
Wil je vrijblijvend een afspraak maken met ons om de boeken in te zien? mail info@appletizer.nl of bel 020-5305380