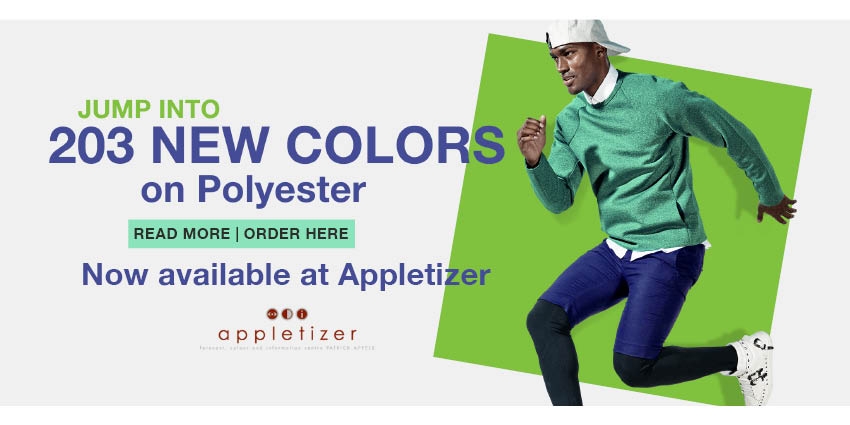 NEW - Pantone® Polyester Swatch Set
The Pantone Polyester Swatch Set offers 203 unique synthetic colors for designers and colorists working in apparel, textiles and soft home in one convenient, storage cage. Our new 2'' x 2'' mini swatches are secured, double layered, and on unbacked 100% polyester fabric. They are easy to review, select and replace in three removable display trays. These forecast-driven swatches come arranged by color family and are ideal tools when creating your own color swatch color stories and palettes.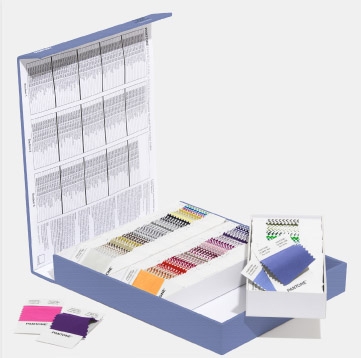 Format
- New ''match-style'' swatch format helps secure and protect fabric with a bottom flap on the card while still allowing easy review and usage
- 2'' x 2'' mini swatches, perfectperfect for palette development
- Double-layered, unbacked fabric on a non-optically brightened paper card for true represenation of the color
- Arranged in a protected, portable storage box with removable trays for ease of use
- Low luster and minimal texture for more accurate color measurement
- 100% non-recycled polyester
Color
- 203 trend-forecasted neutral, bright and pastel colors, dyed on 100% polyester fabric
- Unique but complementary colors to our cotton textile system
- All Pantone Polyester Colors formulated for achievabilit, repeatability and fastness
- Colors arranged in chromatic order with numbers on trays and printed index diagram on inside cover
- Each color refers to a corresponding Swatch Card, the standard for color accuracy
Application
- Use for athleisure, swimwear, hosiery, sleepwear, footwear, juvenile, outdoor sports, soft goods, and kidswear products
- Use for palette development, mood boards, presentations, and internal color communication
NEW - Pantone® Polyester Swatches
Pantone Polyester Swatch Cards (TSX) are the latest synthetic color standards for designers and product developers in apparel, textiles and soft home. Made on double-layered fabric to the most exacting color specifications, the Pantone Swatch Card allows access to full spectral data and comes in a protective pouch for assured color accuracy in production. The total 203 unique colors are forecast-driven to complement our other existing Fashion, Home + Interiors reference products.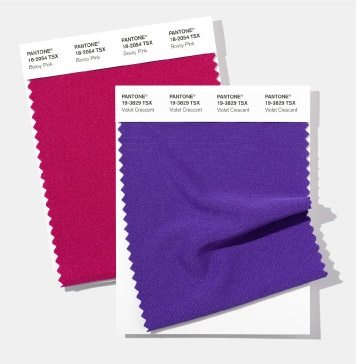 Format
- One 4'' x 4'' color swatch made of 100% Warp Knip Polyester
- Double-layered un-backed fabric on a non-optically brightened paper card for true representation of the color
- Protective pouch shields the fabric from light and humidity
- Low luster and minimal texture for more accurate color measurement
- 100% Non-Recycled Polyester to minimaze variaton in yarn
Color
- 203 trend-forecasted neutral, bright and pastel colors, dyed on 100% polyester fabric
- Unique but complementary colors to our cotton textile system
- Pantone Swatch Cards are dyed within a dE 0.5 tolerance*, the most accurate color standard available
- Each swatch is referenced by color name and number
- Dye formulations are available for each color
- Spectral data is available for purchase seperately
*except for neons and optical whites, which are dyed within a dE <1.0 tolerance
Application
- Use for athleisure, swimwear, hosiery, sleepwear, footwear, juvenile, outdoor sports, soft goods, and kidswear products
- Use for precise visual color evaluation, spectrophotometric color reading, and specifying color to production partners
- Use for palette development, mood boards, color communication, specification and production