2 december 2019 | GREEN WAVE | Lidewij Edelkoort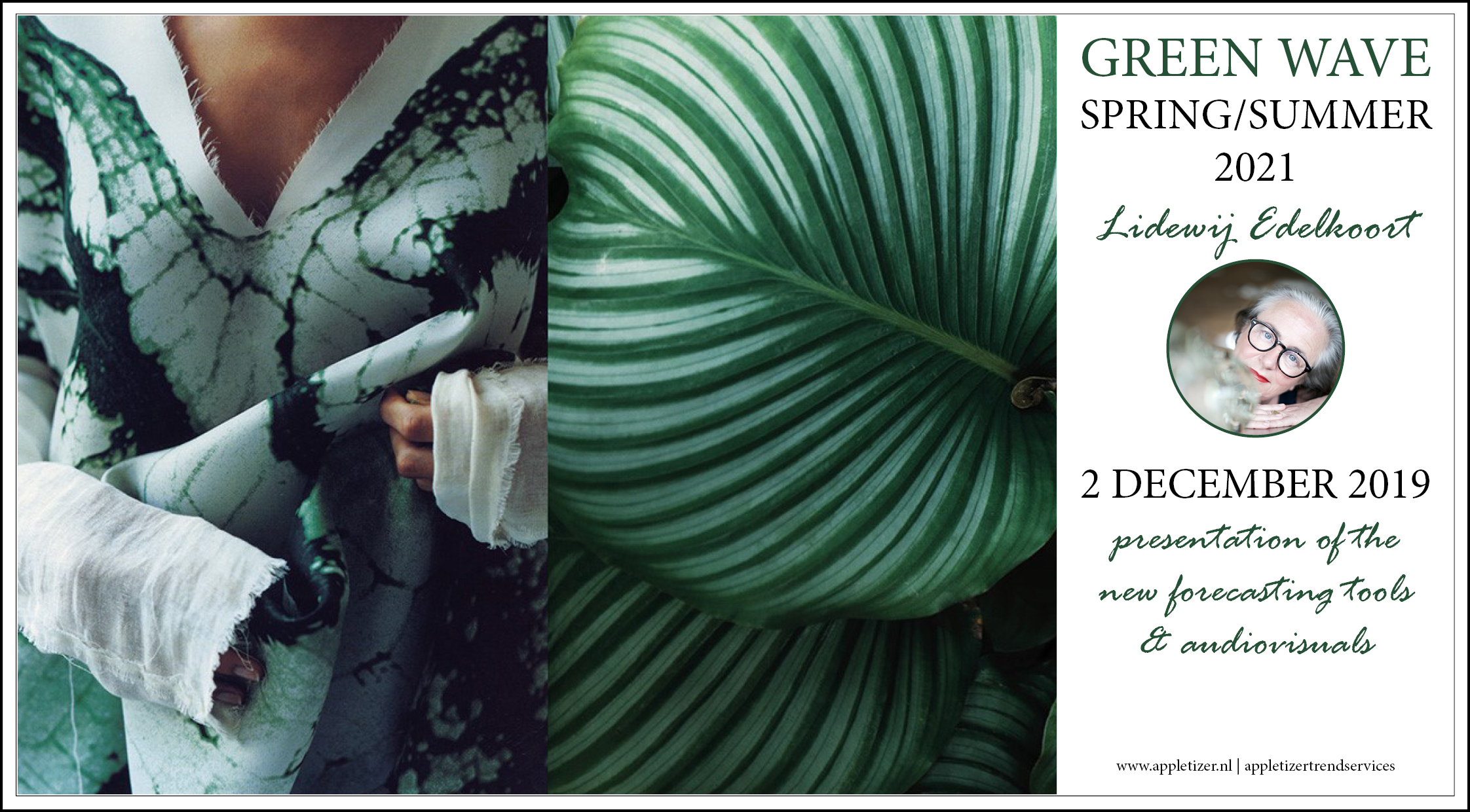 2 december 2019 | GREEN WAVE | Lidewij Edelkoort
Deze dag wil je écht niet missen! Appletizer organiseert een nieuw trend event, want Lidewij Edelkoort komt naar Nederland met haar gloednieuwe presentatie Green Wave:
"The need for green is so powerful that it will turn fashion and design around without any doubt, sprouting from so many political, humanistic and survivalist sources it is impossible to ignore. But maybe the most important thing about green is its capacity to bring joy. Its energy and charisma are compelling and will help us be, combatting despair with optimism and happiness: joy seen as another form of activism." – Lidewij Edelkoort
Dit trend event is hét evenement dat jou klaarstoomt voor de trends van Spring/Summer 2021. Het gehele programma omarmt het thema Green Wave, waar Lidewij Edelkoort haar visie geeft over de toekomstige lifestyle-, fashion-, activewear- & kleurtrends.
Je bent deze dag vanaf 08.30u van harte welkom. Je kunt rustig de tijd nemen om de nieuwe boeken te bekijken en om je daarna volledig je laten onder dompelen in het thema Green Wave. Lidewij zal de presentatie starten om 10.00u. Haar programma omvat 4 verschillende presentaties:
Green Wave, fashion, textile & macro trends
Green Wave audiovisual in music
The Green Book, casual wear, leisure & active
Lifestyle 'a matter of taste'
Rond 15.00u zal deze dag eindigen met een gezellige netwerkborrel, waar je onder het genot van een hapje en een drankje kunt nagenieten en bespreken wat er deze dag is gepresenteerd. Dit volledig verzorgde event kun je bijwonen voor € 375,-. Dit bedrag is inclusief het booklet van Lidewij Edelkoort. Voor studenten en docenten hanteren we een aangepast tarief van € 250,-.
Kortom, dit is een onmisbaar event voor iedere lifestyle-, fashion- en designprofessional.
LET OP: Voor onze niet-Nederlands sprekende gasten is er een vertaal service aanwezig. Wanneer je hiervan gebruik wilt maken, laat het ons weten via de mail.
Kun je niet meer wachten en wil je jezelf nu meteen inschrijven voor dit trend event? Dat kan! Registreer je dan nu hier. Klik door voor meer informatie over de spreker, locatie en het programma.
Zien we jou 2 december?